The effects of ready-to-wear clothing on the Tirocchis' business were dramatic. By the early 1920s, Anna realized that she could not compete, as a purely custom dressmaker, with the convenience of the new ready-made garments. By the mid-1920s, she had converted her shop from a custom dressmaking establishment, where client and dressmaker worked together to create clothing expressive of an individual style, to a retail establishment offering high-end ready-to-wear. The sisters still offered the traditional seamstress services of alterations and repairs to their customers, something department stores could not offer except at the time a garment was purchased. In addition, the Tirocchis designed custom-made bridal and bridesmaids' dresses and did a nice business outfitting entire wedding parties.
Until 1924, ready-mades had made up a small percentage of the business, ranging from no sales, to about 5% for that year. However, it appears in the fall of 1923, Anna was forced to confront the fact that since 1915, when the sisters moved into 514 Broadway, business had gone into a steady decline. Each year following saw a decrease in the number of client transactions, from a total of 490 in 1916, to 281 in 1923.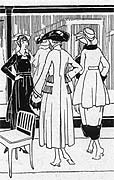 The new department stores wanted the business of the general consumer, but they also catered to women of wealth by offering high-quality and high-fashion dresses in lavish corners of the store that echoed the homes and clubs to which these women were accustomed. Small specialty shops arose to attract the same clientele. Both types of establishments offered alteration services and some custom dressmaking to meet customers' demands, but neither could offer the craftsmanship the Tirocchis could.
Anna Tirocchi had never aspired to serve the general public. Indeed, according to her niece Primrose, she turned away potential customers who "did not appreciate what she was doing." Nevertheless, she was alarmed when she realized that the new department and specialty retail stores were enticing her clientele.
Madame Tirocchi's solution was to begin to offer her clients a wide range of ready-made garments and accessories. In the Spring of 1924, her investment in ready-mades increased significantly when she brought back from a buying trip to Paris 23 dresses, seven knit sport suits, two coats, and five blouses. From American importers and manufacturers, she bought 158 dresses.
The vendors, importers, and manufacturers whom Anna patronized specialized in what was called "wholesale couture," which was suitable to the Tirocchis' discriminating clientele. Women throughout the world looked to Paris for the latest styles, so manufacturers sent buyers to Paris at least twice a year to buy, or steal, garments that were then copied with slight alterations to suit the more practical, less formal American tastes. The French copies were then marketed to American retailers, such as the Tirocchi sisters and their clients.
If the Tirocchi clients coveted and collected the highest quality French fashions, they also demanded the best in textiles. Whether their dresses were custom-made or purchased ready-to-wear, the clientele favored the finest French textiles. French couture had the allure of Paris, with all the status that called to mind, but French textiles were valued in America for the long-standing French reputation for quality and good design. Madame Tirocchi's flawless eye enabled her to purchase the most luxurious and beautifully designed French fabrics she could find for her discriminating clientele. Just as Anna Tirocchi took advantage of the changeover to ready-to-wear clothing by embracing it, she also adopted French textiles with the latest modernist designs as the basis for her custom trade.
Anna also began offering her customers a range of accessories and fine linens. She sold handbags, scarves, shawls, jewelry, lingerie, boas, and feathers. The business began to flourish once again. By 1927, customer billings were triple what they were in 1923, going from $22,706 to $62,221. The shift in tactic made the difference. Madame Tirocchi was doing less custom work, but the shop was still surviving as a small dressmaking establishment at a time when most dressmakers were closing their doors.
^back to top
>> read on about The Last Days of the Business