Frank left Italy in the wake of a family dispute or disappointment because he had not inherited land and so felt he could not make a living. Encouraged by his uncle Salvatore who had already emigrated to America, Frank concluded that America offered better promise for a young man willing to work hard. Census records show that Frank immigrated to the United States in 1905, settling in Providence, Rhode Island.

He first found work with a railway company that linked the U. S. and Canada. He contracted labor and supervised the crew's work, often traveling with them to Canada. His daughter Primrose says that her father learned English in Canada. It is clear that he must have known it, for fluency in English was an essential quality for the padrones (labor contractors) who served as middlemen between North American employers and immigrant laborers. The 1920 census lists him as literate, and his daughter said he was educated in a fine school in Rome before he immigrated.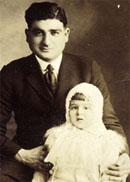 In 1914, Frank married Maria Del Signore, a woman with middle-class family ties in Italy, and moved to 39 Bradford Street on Federal Hill, in the heart of the largest Italian community in Providence. Anna invested with Frank in a pharmacy on nearby Atwells Avenue and she and her sister Laura moved from the Valcarenghi home to Frank and Maria's home. This move was short-lived, for Maria Tirocchi played Cupid for her new sister-in-law Laura, introducing her to a young physician, Dr. Louis J. Cella, whom Maria had met in their pharmacy. Soon Anna bought a handsome house prominently situated on nearby Broadway for herself and the newlyweds.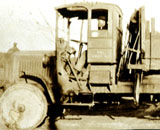 The pharmacy folded sometime thereafter, and Frank then held a variety of jobs. He is first listed in the Providence City Directory in 1914 as a clerk; a later listing described him as a worker in a machine shop. Soon thereafter, he bought a truck and hired out his services to the City of Providence. From 1928 through 1931, Frank ran his trucking business from Anna's Broadway residence, while living in one of her apartments on nearby Tobey Street.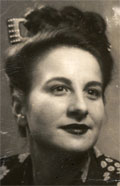 Frank and Maria continued to live in this neighborhood, raising their family there and working in various Tirocchi family enterprises. Their children, Primrose and Frank, Jr., as second-generation Italian Americans, stayed rooted in Providence. Primrose inherited the Tirocchi talent for fashion and had a long career in sales at the Outlet Department Store, specializing in millinery. She designed hats and had her own millinery show at the downtown Biltmore Hotel in the 1930s. Frank, Jr. became a well-regarded dentist in town and established his dental practice at 316 Pocasset Avenue, next door to the original Valcarenghi home.
^back to top
>> read on about Anna Tirocchi