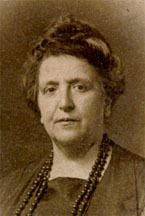 When Anna's mother Rosa was widowed, she moved the family to Rome and worked as a cook in a wealthy household. The lady of the house took an interest in Mrs. Tirocchi's children and particularly noticed the sewing talents of young Anna. She arranged for Anna to work for a noted Roman dressmaker, one whom family legend has it worked for Italian royalty. At the least, the dressmaker had customers among the aristocracy. Among other things Anna learned from her, she learned how to cater to the elite.
Anna, 30, and Laura, 17, arrived in New York City in 1905. Their sister Eugenia and her family joined them soon thereafter, and by 1907, they all moved to Providence, where Frank and other Tirocchis were living. The economic prosperity in the city at that time would have assured Anna that this was a place where she could build a profitable business.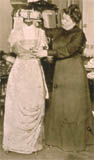 Anna worked initially for an East Side dressmaker. By 1911, she and Laura had opened their own business, A. & L. Tirocchi, at a prestigious downtown location in the Butler Exchange Building on Westminster Avenue. There were over 800 dressmakers in Providence at the time, but the Tirocchi sisters called themselves "gown makers" to denote the fancier dress they specialized in. They were soon busy enough to hire about a dozen employees.
Four years later, Anna was able to begin realizing her true dream by purchasing the large, distinguished Victorian house with a fashionable address at 514 Broadway. Laura had recently married Dr. Louis Cella, and they all moved into 514 Broadway, making it their "business home." The women moved their dressmaking business there, and eventually, Dr. Cella set up his medical practice there, too.

From 1911 through the 1940s A. & L. Tirocchi made and supplied the finest clothing and accessories to the wealthiest women of Providence. In the early days, Anna designed gowns herself and worked with clients to choose fabric, trim, and magazine-inspired styles for their clothes. Her employees stitched the gowns, following Anna's instructions as she draped fabric on custom dress forms, and she then had at least a couple of fitting sessions with the clients to make sure the gowns fit perfectly. The clients valued this personal service and the originality of the gowns they purchased. As a measure of their regard for her talent and European heritage, they called her Madame Tirocchi.
Although of average immigrant background, Anna lived an upper class life in Providence. It seems she rarely socialized, and then only with other Italians of similar class, such as the Vervena family whose head was Italian Consul to Providence and president of Columbus Exchange Bank.
Devoted to family and employees, Anna Tirocchi never married. She considered the women who worked for her and her nieces and nephews to be her "children," making wedding gowns for her "girls," and taking a number of nieces and nephews into the Broadway house for periods of time, paying for their schooling at neighboring St. Mary's parish school. She also supported their education and encouraged them in their professional aspirations.
Anna's business was a calling to her. She skillfully managed immigration and a new start; engineered the transition of her business as the retail trade intruded into her custom dressmaking sphere; and maintained enough business and investment income to support herself as a single woman and help those around her.
^back to top
>> read on about Laura Tirocchi