Like many immigrants to this country, Anna Tirocchi felt strongly about saving and investing her money to establish a base of security and respectability. She told her niece Primrose that other dressmakers in Providence had gone bankrupt because they had not invested their money. Anna's investments were also a hedge against hard times in her business.
As her dressmaking business prospered, Anna accumulated a number of real-estate holdings. Realtors sent solicitations to Madame Tirocchi, these suggest that she was known as a prospective investor in commercial buildings. Her Broadway property included other lots on neighboring streets. She and Dr. Cella also purchased a set of leaseholds on North Main Street. These were substantial properties that included an auto repair garage, a diner/restaurant, and a multi-story commercial block. Scattered records seem to indicate that Anna managed the financial side of this joint holding for herself and Dr. Cella. She paid the taxes and rent due the City of Providence on the land where the buildings stood. She arranged for insurance and kept accounts of tenant rents and capital costs.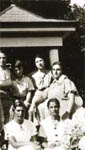 In later years, Anna acquired a vacation home at Narragansett Pier, which also produced rental income for her, and a property with an auto service station in nearby Cranston. In the 1930s, as the dress shop business declined, rents from all her holdings produced a larger portion of her income.
Anna also invested in Italy, purchasing Italian bonds and loaning money to business men in Guarcino - Agnello De Meis and Giovanni Castagnacci - who produced felt and hats of straw and wool. But the loans were often not repaid and the bonds were worthless after World War II.
Anna managed her other investments along with her shop business. The shop's bookkeeper kept track of rental income, lease hold payments and taxes due, capital improvement expenses for the real estate properties, all the books for the shop, and household expenses for the family. The business home at 514 Broadway was treated as a whole and essentially run out of one office. Dr. Cella apparently submitted payments for his share of expenses - household and investments - directly to the bookkeeper, for one note has been found that accompanied a payment directed to the bookkeeper "so as not to disturb Miss Tirocchi." Tax records seem to reflect casual and erratic record keeping and inconstant reporting, but Madame Tirocchi did survive two audits without additional tax or penalty.
^back to top
>> read on about The Business Home